The Ĉekbanko esperantista ("Esperantist Checking Bank") was an Esperantist bank founded in 1907 by Herbert F. Höveler (1859–1918).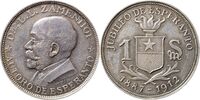 The bank was founded in 1907 by German Esperantist Herbert F. Höveler, under the alias "E. Ĉefeĉ". It was headquartered in the Merton Abbey of London, England, and also contained branches in Dresden and Moscow. Checks payable by the Ĉekbanko esperantista denominated in spesmiloj were widely used by the Esperantist community for transactions, including membership fees and restaurant bills, and on April 30, 1914, there were 730 accounts in 320 cities and 43 countries. It is believed by some sources that the bank may have also produced spesmilo coins. The short-lived Ĉekbanko esperantista was liquidated upon Höveler's death in 1918.
Community content is available under
CC-BY-SA
unless otherwise noted.