Aivar Simson
Biographical information
Nationality

Estonia

Born
Occupational information
Occupation
Affiliations
v · d · e
Aivar Simson, also known as Simson von Seakyl, is an Estonian sculptor. He is known for his many sculptures and for designing a commemorative 10 euro coin of Estonia from 2011.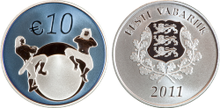 Simson was born in Jõhvi on December 5, 1959, during the administration of Estonia by the Soviet Union. He graduated from the Jõhvi School of Art in 1976. Simson served as a member of the Soviet Armed Forces in the 1980s, and was deployed to the Helmand Province in Afghanistan during the Soviet-Afghan War. After returning to his home country, Simson began studying at the Estonian Academy of Arts, where he graduated in 1989.
Simson has produced several sculptures, and in 2010 designed a commemorative 10 euro coin of Estonia entitled "Estonia's future", which was issued on January 14, 2011.
He is married to Estonian graphic designer Krista Simson, and currently resides in the village of Tammispea in Harju County of northern Estonia. Simson is currently a member of the Estonian Artists' Association and Estonian Sculptors' Association.
Community content is available under
CC-BY-SA
unless otherwise noted.