Ajman (Arabic: عجمانّ, ʿAǧmān) is the smallest of the seven emirates that make up the United Arab Emirates.
Around 1775, the Al Nuaim tribe founded the Sheikhdom of Ajman. On January 8, 1820, Sheikh Rashid bin Humayd signed the General Maritime Treaty with the United Kingdom, accepting the current emirate as a British protectorate in order to keep the Ottoman Turks out.
On December 2, 1971, Ajman joined the United Arab Emirates, under leadership by Sheikh Rashid bin Humaid Al Nuaimi.
Main article: Economy of Ajman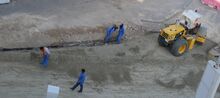 Ajman was the second of the current emirates to offer freehold property, succeeded only by Dubai. It is currently the only emirate to offer investors of any nationality to have complete freehold ownership on real estate, which has attracted a large number of local and international investors to Ajman. This, in turn, has prompted the Ajman government to start a number of development projects. The area used for these projects, which are being built just outside Ajman city, has been referred to as "New Ajman". One of the first developments of New Ajman is called "The Emirates City", a brand new city located directly on the Emirates Road consisting of at least 100 mid- and high-rise buildings. A number of shopping malls, hotels, and residential villas were planned to extend to the 'Al Zoura' area where beachside developments were planned. However, almost none of these developments ever started and as a result, several investors from around the world lost millions of dollars, and the government was never held responsible.
In 2008, the construction of the Ajman International Airport began, but is currently at a stand-still. Airport operations were scheduled to begin in 2011; however, it is not scheduled to be completed until 2015. Work on the airport has not started as of 2011, and it is doubtful the airport will be finished in the foreseeable future.
Numismatics
Edit
For more information, see United Arab Emirates#Numismatics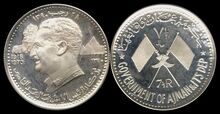 During Ajman's time as part of the Trucial States, a number of gold and silver coins, including British sovereigns and Maria Theresa thalers, were used. The Indian rupee was eventually introduced in Ajman, but it was replaced in the sheikhdom by the Gulf rupee in 1959. After the rupee's devaluation, Ajman used the Saudi riyal from June 16 to September 17, 1966. It was then replaced by the Qatar and Dubai riyal later that year, and was used as currency in Ajman until 1971. After the founding of the United Arab Emirates, Ajman and the other seven emirates began using the United Arab Emirates dirham, which still circulates today.
In 1970, Ajman issued a number of riyal coins, which were considered legal tender within the sheikhdom.
References
Edit
Community content is available under
CC-BY-SA
unless otherwise noted.