The Aruban florin (Dutch: Arubaanse florijn; symbol: Afl.; code: AWG) is the currency of the Dutch constituent country of Aruba. It is subdivided into 100 cents. The florin was introduced in 1986, replacing the Netherlands Antillean guilder at par.
Introduction
Edit
Main article: Aruba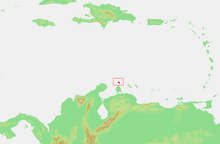 The island of Aruba was first inhabited by Caquetio of the Arawak tribe, which fled from the Caribs of Venezuela. Spanish explorer Alonso de Ojeda is credited as the first European to arrive, at about 1499. In 1634, the island became a Dutch colony, but later, the British Empire briefly took control of Aruba before handing it back to the Dutch. In 1828, Aruba became part of the Dutch West Indies and part of the Netherlands Antilles in 1848. It separate from the latter in 1986, becoming a separate territory.
Aruba used the Caribbean stuiver until the 18th century, when the Dutch guilder was introduced. In the 19th century, the Netherlands Antillean guilder was introduced, which circulated alongside the Dutch guilder until 1940. After being separated from the Netherlands Antilles, Aruba developed its own currency, the florin.
The florin was introduced in 1986, replacing the Netherlands Antillean guilder at par. The currency maintained the peg inherited from the guilder of 1.79 florin equaling 1 United States dollar.
In 1986, nickel-plated steel 5, 10, 25, 50 cent, 1 and 2½ florin coins were introduced. All of these coins are circular in shape, with an exception of the 50 cent coin (nicknamed "yotin"), which is square-shaped. In 1995, a square-shaped 5 florin coin was introduced, but was replaced in 2005 by a round aluminum-bronze coin.
Similar to the Netherlands and Netherlands Antilles, Aruba has issued a number of commemorative coins, issuing its first in 1986, a silver 25 florin coin commemorating independence. In addition, commemoratives have been issued in denominations of 5, 10, 50, and 100 florin. Every commemorative coin minted thus far has been composed of silver or gold, except for a nickel-plated steel INA fantasy 5 florin coin from 2002, marking the Queen's Silver Jubilee.
Banknotes
Edit
In 1986, the Central Bank of Aruba issued banknotes in denominations of 5, 10, 25, 50, and 100 florin. Four years later, in 1990, the bank issued the same denominations in a new family of notes designed by artist Evelino Fingal, who found inspiration from old Indian paintings and pot shards. For the design, he combined decorative motives found on pre-Colombian pottery with pictures of animals native to the island. In 1993, the 500 florin note was introduced, and in 1995, the 5 florin note was replaced by a coin.
Exchange rates
Edit
References
Edit
Community content is available under
CC-BY-SA
unless otherwise noted.