Austrian Mint
Geographical information
Location
Coordinates
Historical information
Date established

prior to 1397

Political information
Governed by
Website
austrian-mint.at
The Austrian Mint (German: Münze Österreich) is the authority responsible for the issue of Austrian coinage. It is currently regulated by the National Bank of Austria.
The Austrian Mint was first documented in 1397, having been mentioned as being located in the Wollzeile street in Vienna. Before this, the mint was responsible for making coins out of silver ransom paid for King Richard I of England during the reign of Duke Leopold V.
During 1650, Münzmeister Johann Konrad Richthausen Freiherr von Chaos introduced the embossing roll to the Austrian Mint, after it had been first used in the Tyrolean Mint in 1554. In 1700, the Austrian Mint began using screw presses for coin production. During 1834, the mint was moved to a different vicinity in Vienna, where it remains to this day.
Responsibilities
Edit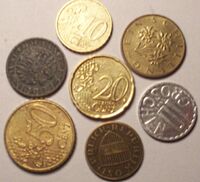 The Austrian Mint has been responsible for the production of most of Austria's coins in history. Until Austria adopted the
euro
in
2002
, it was the sole producer of its
schilling
. However, after joining the
Eurozone
, the Austrian Mint has been given the task of minting euro coins. As well as producing general issue coinage,
commemorative coins
are also produced at the mint, such as the
Vienna Philharmonic coins
and the
Maria Theresa thaler
.
Because the mint produces such high quality coinage, it also produces coinage for other countries around the world.
External links
Edit
References
Edit
Community content is available under
CC-BY-SA
unless otherwise noted.