Central Bank of the UAE
مصرف الإمارات العربية المتحدة المركز

(Arabic)


The bank, as depicted on a 200 dirham note

General information
Headquarters
Coordinates
Date established
Governor
Currency
Website
http://www.centralbank.ae
The Central Bank of the United Arab Emirates (Arabic: مصرف الإمارات العربية المتحدة المركز) is the central bank of the United Arab Emirates. Its headquarters is located in the nation's capital, Abu Dhabi. The central bank is the only entity permitted to produce currency for the UAE.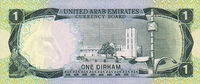 The United Arab Emirates Currency Board was established on May 19, 1973, in an effort to replace the Bahraini dinar and Qatar and Dubai riyal currencies, which had been circulated in the United Arab Emirates since 1966. The United Arab Emirates dirham was introduced on May 19, 1973, replacing the dinar and riyal in a span of a few weeks. The Currency Board's function was limited to issuing the dirham and ensuring the currency was backed by proper amounts of gold and foreign currencies. Therefore, by law, it was not authorized to devise the country's monetary policy. In spite of this, however, the board organized banking in the country. With help from the International Monetary Fund (IMF), the Currency Board was capable of organizing detailed monetary and banking statistics of the country's businesses and banks. The board aided the country with its growing economy and helped establish a banking system to cover all the economic sectors of the United Arab Emirates. The board eventually became the Central Bank of the United Arab Emirates upon the issuance of the Union Law No. (10) of 1980, concerning the Central Bank, the monetary system and organization of banking on December 10, 1980.
Responsibilities
Edit
Per the Union Law No. (10) of 1980, the Central Bank of the United Arab Emirates is authorized to issue currency in the form of banknotes and coins. In addition, it is tasked with keeping the currency stable and allowing it to be freely convertible into other currencies, ensuring a policy that helps the national economy achieve balanced growth, organize banking, monitor the efficiency of the national banking system, function as the bank of the Government of the United Arab Emirates, give the government monetary and advice when need be, keep reserves in gold and other currencies, and act as a financial agent in the International Monetary Fund and the World Bank. Currently, the bank is working towards maintaining a fixed exchange rate between the UAE dirham and the United States dollar.
References
Edit
Community content is available under
CC-BY-SA
unless otherwise noted.