This article or section needs to be

cleaned up

to reach a higher standard of article quality.

Please follow the guidelines of our manual of style and complete this article to a higher level of quality. When this is done, this message may be removed.
½ Rigsmontskilling
1868 coin
General information
Country

Denmark

Value

1⁄192 daler

Years
Measurements and composition
Mass

1.9 g

Diameter

15.6 mm

Composition
Appearance
Shape

round

Alignment
Obverse

Crowned monogram, oak branches, year

Reverse

value

v · d · e
The ½ Rigsmontskilling coin was minted by Denmark in 1857 and 1868. It had a value of ½ Rigsmontskilling, or 1⁄192 of a rigsdaler.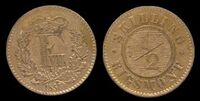 In 1857, the first ½ Rigsmontskilling coin was introduced. It was composed of bronze, weighed 1.9 grams, and measured 15.6 millimeters in diameter. Depicted on the obverse was a crowned monogram (reading "FVII") with oak branches and the year of minting below. Displayed on the reverse was the value (inscribed as "½ SKILLING RIGSMONT").
In 1868, the coin was reintroduced. It retained the original composition, mass, diameter, and reverse design of the first coin. The only changes made were to the year of minting and the monogram, which read "CIX".
References
Edit
Community content is available under
CC-BY-SA
unless otherwise noted.