Not to be confused with: Moneda
The Duchy of Modena and Reggio (Italian: Ducato di Modena e Reggio; Latin: Ducatus Mutinae et Regii) was a small Italian state that existed from 1452 to 1859, with a break from 1796 to 1814 caused by the Cispadane Republic.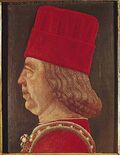 The Duchy of Modena and Reggio was established by the Este family, who also ruled the Duchy of Ferrara until its fall in 1597. During 1796, the territory was occupied by the French army of Napoleon Bonaparte, who created the Cispadine Republic, which lasted until 1814, the year of Napoleon's abdication. During December 1859, Modena and Reggio combined with the duchies of Tuscany and Parma to form the United Provinces of Central Italy, annexed into the Kingdom of Sardinia during 1860.
Numismatics
Edit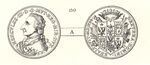 The Duchy of Modena and Reggio issued its own currencies. The first currency, the tallero, was first issued in 1598 by Cesare d'Este that was in 1604 used alongside the bolognino. During the 17th century, the scudo was used in the Duchy and later the soldo was introduced. The currencies became uncirculated while a part of the Cispadane Republic, which circulated the Bolognese lira. After this, however, the currencies were reissued until the United Provinces of Central Italy was formed partially by the Duchy.[1]
References
Edit
External links
Edit
Community content is available under
CC-BY-SA
unless otherwise noted.