Edmund C. Moy (Chinese: 梅冠芳; pinyin: Méi Guànfāng) is an American businessman and former government official. From 2006 to 2011, he served as the 38th Director of the United States Mint.
Biography
Edit
Early life
Edit
Moy was born on September 12, 1957 in Detroit, Michigan, but was raised in Waukesha, working in his parent's downtown restaurant while growing up. In 1975, he graduated from Waukesha North High School, and in 1979 Moy graduated from the University of Wisconsin–Madison with a triple major in economics, international relations, and political science. During his time at UW–Madison, Moy joined the Tau Kappa Epsilon International Fraternity.
Personal life
Edit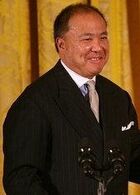 Moy is active in organizations that represent the Asian-American community, as well as in the Board of Directors of Christianity Today International. He was elected Grand Crysophylos (Treasurer) for the Tau Kappa Epsilon International Fraternity at the 54th Biennial Conclave in Las Vegas, Nevada. He subsequently became Grand Grammateus (Secretary) of the fraternity, and afterward Grand Epiprytanis (Vice President). In 2005, he was named Teke Alumnus of the year and was elected Grand Prytanis (President) at the 2011 Conclave.
From 1997 to 1999, Moy suffered from a debilitating nerve illness, which was eventually cured through brain surgery.
Moy has a wife, Karen Johnson Moy, and a Chinese-adopted daughter, Nora Sue Moy.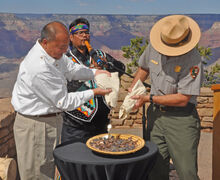 From 1979 to 1989, Moy worked for the Blue Cross Blue Shield Association of Wisconsin. He subsequently served as the Director of the Office of Managed Care at the Health Care Financing Administration during the George H. W. Bush administration. From 1994 to 2001, Moy worked for a number of private-sector companies. From 2001 to 2006, he served in the George W. Bush administration as Special Assistant to the President for Presidential Personnel. In 2003, Moy also served on the transition team for the Department of Homeland Security.
On June 29, 2006, Bush nominated Moy to serve as the 38th Director of the United States Mint, and was sworn in on September 5 of that year. He announced his resignation from the position on December 20, 2010, which became effective on January 9, 2011. He is currently Vice President Corporate Infrastructure for L&L Energy, Inc.
References
Edit
Community content is available under
CC-BY-SA
unless otherwise noted.