The Estonian euro coins first entered circulation on January 1, 2011. Estonia joined the European Union in 2004, and subsequently became the first ex-Soviet republic to join the eurozone. It originally planned on adopting the euro on January 1, 2007, but did not formally apply when Slovenia did, and changed its target date to January 1, 2008, and later, to January 1, 2011. It was announced on May 12, 2010, by the European Commission, that Estonia had met all of the criteria to join the eurozone, and on June 8 of the same year, Estonia was granted membership. On July 13, 2010, Estonia received final approval from the Economic and Financial Affairs Council (ECOFIN) to adopt the euro in 2011. On that same date, the exchange rate of the kroon and euro (€1 = 15.6466 krooni) was announced. Three days later, on July 20, Estonian euro coins began production at the Finnish mint.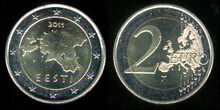 See also: common side
The national design of the Estonian euro coins was determined by a competition held in 2004; 134 designs were submitted, and Lembit Lõhmus' were used. They display a silhouetted map of Estonia, with the year of minting above, and the word "EESTI" below, surrounded by 12 stars, a symbol for the European Union.
Controversy
Edit
Ethnic Setos have protested the designs of the Estonian euro coins, claiming the outline of the map does not include the former southeastern region of Estonia that formed a part of the Seto homeland annexed by Joseph Stalin during the occupation of the Baltic states. On the other hand, Russian lawyer, Sergei Seredenko stated that the outline included Russian controlled areas. The Russian embassy was prompted to issue a statement that the Estonian euro coins do, indeed, show the current borders of the country.
Euro starter kits
Edit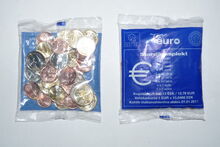 Beginning on
December 1
, 2010,
euro starter kits
containing the Estonian euro coins were available. The kits for individuals contained a total of 42 coins valued at 12.79 euros. A total number of 600,000 euro starter kits for individuals were produced.
Two euro starter kits with Estonian coins intended for businesses were introduced later. One of the kits contained 320 coins, which had a combined value of 111 euros, while the other contained 600 coins, with a combined value of 198 euros.
Commemorative coins
Edit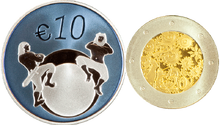 On
January 24
, 2011, Estonia featured its first
gold
and
silver
commemorative
euro coins. The
10 euro coin
, designed by
Simson von Seakyl
, was composed of
silver
and was entitled "Estonia's future". This coin has an issue price of 40 euros. The
20 euro coin
, designed by
Priit Pärn
, was bimetallic, having a silver ring and a
gold
center. It was entitled, "Estonia's accession". This coin has an issue price of 350 euros.
References
Edit
Community content is available under
CC-BY-SA
unless otherwise noted.