The Irish euro coins first entered circulation in 2002. The introduction of the euro in the Republic of Ireland was overseen by the Euro Changeover Board of Ireland (Irish: Bord na hÉireann um an Athrú go dtí an Euro), which was a special agency created on May 5, 1998 by the Minister for Finance.
Design and features
Edit
See also: common side
The reverses of the Irish euro coins were designed by Irish artist Jarlath Hayes. Each depict an image of a harp, a traditional symbol of Ireland since the Middle Ages, based on the Brian Boru harp. Around the circumference of the coins are 12 stars of the European Union. To the harp's left flank is the Irish name for Ireland, "ÉIRE", inscribed in traditional Gaelic script, and to the right is the year of minting. Unlike most euro coins, the only identifying marks on Irish euro coins are its national identifier ("ÉIRE"), and the "

" inscribed on the edge of the 2 euro coin.
Starter kits
Edit
On December 14, 2001, 750,000 euro starter kits containing Irish euro coins (dated 2002) were issued. Each kit contained 18 coins worth €6.35 in total, or IR£5.
Proof sets
Edit
Main article: Proof coinage
In 2006, Ireland issued 5000 sets of all the Irish euro coins in proof quality. The following year, 10,000 proof euro sets were issued by Ireland, which included all of the Irish coins and a commemorative 2 euro coin marking the 50th anniversary of the signing of the Treaty of Rome. Two years later, in 2009, 5000 proof sets were issued, which also included a 2 euro coin commemorating the Economic and Monetary Union of the European Union.
Commemorative coins
Edit
2 euro coins
Edit
Ireland is one of only a handful of eurozone nations that has not issued an independent commemorative 2 euro coin. In 2007, it minted a coin to commemorate the 50th anniversary of the Treaty of Rome, followed by another coin in 2009 commemorating the European Monetary Union. The most recent international commemorative 2 euro coin, issued in 2012, marked the 10th anniversary of the euro.
Other commemorative coins
Edit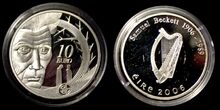 Ireland issued its first series of commemorative euro coins in 2003 to mark the 2003 Special Olympics, which were being held in Dublin. This series consisted of a cupronickel 5 and a silver 10 euro coin. The following year, a silver 10 euro coin was minted to commemorate EU presidency, which was followed by a 10 euro coin in 2005 to mark the 200th anniversary of Sir William Rowan Hamilton's birth and a coin in 2006 to commemorate Samuel Beckett. In 2007...
References
Edit
Community content is available under
CC-BY-SA
unless otherwise noted.