Jeff Huntly
Biographical information
Nationality
Born
Died
Occupational information
Occupation
v · d · e
Jeffery Douglas "Jeff" Huntly was a Zimbabwean artist, author, and naturalist. Among his most notable works include his Veld Sketchbook, various postage stamps of Ciskei and Zimbabwe, and the first series of Zimbabwean coins.
Biography
Edit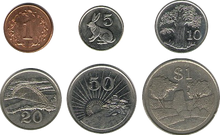 Huntly was born to Norman Hugh Goldhawk Huntly and his wife, Myrtle, in Bindura, Southern Rhodesia, in 1931. After graduating from Prince Edward School in Salisbury (now Harare), he worked as a prospector for a few years. Growing up, Huntly developed an appreciation for nature from his father, and would eventually begin expressing his admiration through art and writing. Quitting his job, he began exhibiting some of his work in Rhodesia and South Africa during the 1960s.
The first volume of Huntly's 'Veld Sketchbook', a collection of art and writings, was first published in 1974, and has been printed various times since. Around 1980, Huntly designed the first series of coins for the newly independent Republic of Zimbabwe, and subsequently designed Zimbabwean and Ciskeian stamps as well. He also wrote nature columns for The Witness, a South African newspaper, from 1983 until 2006, when he moved to Cape Town.
Huntly died on May 14, 2008. A final edition of his Veld Sketchbook was sold posthumously in June 2008.
With his wife Margaret, Huntly had one daughter.
References
Edit
Community content is available under
CC-BY-SA
unless otherwise noted.