Joseph Jacob Mickley, sometimes referred to as the Father of American Numismatics, was one of the United States' earliest and most prominent numismatists.
Biography
Edit
Mickley was born on March 24, 1799 in Catasauqua, Pennsylvania. In 1818, he moved to Philadelphia to study the repair of pianos and other stringed instruments. Subsequently, in 1822, he opened his own business in the city, and was employed in this field until 1869.
Mickley became interested in numismatics at about 17, searching for one bearing his year of birth. After gaining such a coin, Mickley began to collect many other United States coins. He was a regular visitor of the Philadelphia Mint and managed to become close friends with its curator, William E. Dubois. He eventually came across an 1804 silver dollar; this specimen is commonly known today as the "Mickley dollar". In 1857, he established the Numismatic Society of Philadelphia, and became its first president. A year later, in 1858, Mickley published a pamphlet entitled "Dates of United States Coins and their Degrees of Rarity", which was one of the first coin collecting books produced. Over the years, he became victim of a number of robberies, including one which occurred on April 13, 1867, in which he lost approximately $16,000 worth of coins. After the robbery, Mickley sold much of his collection, including the 1804 silver dollar, to William Woodward, who later offered it at an auction. Late in 1867, Mickley became a member of the American Numismatic and Archaeological Society (now the American Numismatic Society). Between 1869 and 1872, he traveled Europe, gathering coins for Dubois' United States Mint collection. On February 15, 1878, Mickley died at 78-years-old in his doctor's residence in Philadelphia from a heart attack.
Commemoration
Edit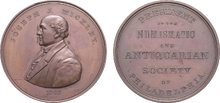 During his life and post mortem, Mickley was regarded as a prominent individual and also commonly referred to as the first American numismatist. In 1867, a bronze medal commemorating Mickley was made by William H. Key. Later, in 1879, the Swedish Mint produced a silver medal of Mickley, which was designed by Lea Ahlborn. This same medal was reissued in 1958.
References
Edit
Community content is available under
CC-BY-SA
unless otherwise noted.