The Kingdom of Italy (Italian: Regno d'Italia; also Regno Italico) was a state founded by French Emperor Napoleon (1769–1821) in present-day Italy that existed from 1805 to 1814.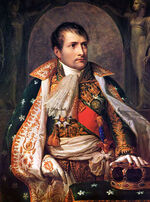 The Kingdom of Italy was established on March 17, 1805, when the Italian Republic, which was ruled by Emperor Napoleon I of France, became the Kingdom of Italy. Napoleon was given the title of King of Italy, and Eugène de Beauharnais (1781–1824) served as his viceroy.
Initially, the Kingdom of Italy consisted solely of the former territories of the Italian Republic: the Duchy of Milan, Duchy of Mantua, Duchy of Modena, the western portion of the Republic of Venice, a portion of the Papal States in Romagna, and the Province of Novara. In 1806, Austria ceded the eastern and remaining part of the Venetian territories to the Kingdom of Italy under terms of the Treaty of Pressburg. The Duchy of Guastalla was annexed later that year. General Auguste de Marmont (1774–1852) of the French Army later conquered the Republic of Ragusa during spring 1808, and it became part of the Kingdom of Italy. The final arrangement regarding territorial changes of Napoleonic Italy arrived in 1810. King Maximilian I Joseph (1756–1825) of Bavaria ceded southern Tyrol to the Kingdom of Italy, which in turn ceded Istria and Dalmatia (with Ragusa) to France, incorporating these territories into the newly established French Illyrian Provinces.
Following Napoleon's abdication to the thrones of France and Italy on April 11, 1814, the kingdom became disestablished, and its territory became annexed the Austrian Empire.
The Kingdom of Italy was given a new national currency, the lira, which replaced the local coins that circulated during the short existence of the Italian Republic. The new coins were of the same, size, and metal of the French coins issued at the time. The mintage of each coin was decided by Napoleon, and with an imperial decree on March 21, 1806, production of the coins began at mints in Bologna, Milan, and Venice in 1807. The lower denominated coins were struck in copper, middle denominated coins in silver, and higher denominated coins in gold or fine silver. The currency was subdivided into 100 centesimi (cents), as well as 20 soldi.
References
Edit
Community content is available under
CC-BY-SA
unless otherwise noted.