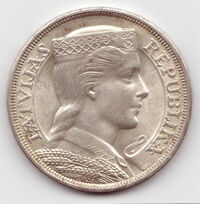 The Latvian maiden or Milda is a portrait of a Latvian woman designed by graphic artist Rihards Zariņš (1869–1939) in 1929. It has been featured on Latvian currency numerous times. Typically, the woman in the portrait is shown facing right donning a stylized folk costume, with ears of grain over her shoulder.
The Latvian Ministry of Finances commissioned graphic artist Rihards Zariņš in 1929 to design a head of a maiden, which would symbolize the Republic of Latvia and freedom. Zariņš employed Zelma Brauere (1900-1977), a proofreader at the State Securities Printing House, to serve as a model for the design. His finished work was used on the reverse of 5 lats coins produced from 1929 until 1932. It was later reused on the 500 lats note dated 1992, albeit facing left instead of right. In commemoration of the 10th anniversary of the reintroduction of the lats, the National Bank of Latvia issued a gold remake of the original 5 lats coin, and in collaboration with the British Royal Mint, the entity that produced the original 5 lats coins, the Bank of Latvia created a silver remake of the coin in 2012 to mark the 90th anniversary of the bank. After a nationwide idea contest was conducted in 2004, the Latvian maiden was decided to be used once more on the national side of the country's 1 and 2 euro coins, which have been issued since 2014.
References
Edit
Community content is available under
CC-BY-SA
unless otherwise noted.