m

m (corrected 50 ban to 50 bani)

Line 2:
Line 2:
 

{{Cleanup}}

 

{{Cleanup}}

 

{{Coin

 

{{Coin

−

|name= 50 ban

+

|name= 50

 

|image= [[File:50bani-md.png]]

 

|image= [[File:50bani-md.png]]

 

|caption= Coin from [[1997]].

 

|caption= Coin from [[1997]].

Line 21:
Line 21:
 

*Value, year, [[wikipedia:Grape|grapes]] (1997–2008)

 

*Value, year, [[wikipedia:Grape|grapes]] (1997–2008)

 

}}

 

}}

−

The '''50 [[ban]] [[coin]]''' was first issued by [[Moldova]] in [[1993]] and is still issued, but not minted. It has a value of 50 bani, or 0.50 [[Moldovan leu|lei]]. This is the only general issue coin currently issued by Moldova that has changed its design and composition.

+

The '''50 [[]] [[coin]]''' was first issued by [[Moldova]] in [[1993]] and is still issued, but not minted. It has a value of 50 bani, or 0.50 [[Moldovan leu|lei]]. This is the only general issue coin currently issued by Moldova that has changed its design and composition.

 
 
 

==History==

 

==History==
---
Revision as of 15:37, 24 August 2015
This article or section needs to be cleaned up to reach a higher standard of article quality.

Please follow the guidelines of our manual of style and complete this article to a higher level of quality. When this is done, this message may be removed.
50 bani
Coin from 1997.
General information
Country

Moldova

Value

0.50 lei

Years
Measurements and composition
Mass

1.07 g (1993)
3.1 g (1997–2008)

Diameter

19 mm

Thickness

1.8 mm (1997–2008)

Composition

Aluminum (1993)
Brass clad steel (1997–2008)

Appearance
Shape

round

Alignment

coin

Obverse

Coat of arms of Moldova, "Republica Moldova"

Reverse
v · d · e
The 50 bani coin was first issued by Moldova in 1993 and is still issued, but not minted. It has a value of 50 bani, or 0.50 lei. This is the only general issue coin currently issued by Moldova that has changed its design and composition.
History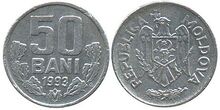 During 1993, Moldova issued the first coins of the Moldovan leu. Among these was an aluminum 50 bani coin. Because it was composed of aluminum, it was very light, weighing only 1.07 grams. It also had a diameter of 19 millimeters. On the obverse, the coat of arms of Moldova was displayed, along with the state title above ("Republica Moldova") and an oak branch below. Displayed on the reverse was the value, year of minting, an "M", and more oak branches. This coin is in resemblance to most Moldovan coins today. They were only minted in 1993, but issued up until 1997.
The current coin (displayed above), which has been used since 1997, is much different than its predecessor. It is composed of brass clad steel, which results in a higher mass of 3.1 grams. The coin measures the original 19 millimeters in diameter and 1.8 millimeters in thickness. Displayed on the obverse is the coat of arms of Moldova again with the state title, but instead of an oak branch below, a different object is used. On the reverse, the value and year of minting are displayed with grapes and leaves. This is the only circulating coin of Moldova that is not composed of aluminum and does not use the typical design of the first Moldovan leu coins.
References