The Moldovan leu (code: MDL) is the currency of Moldova. Like the Romanian leu, it is divided into 100 bani. The Moldovan leu was introduced in 1993, shortly after the dissolution of the Soviet Union.
From
1918
to
1944
, when Moldova was a part of
Romania
, the
Romanian leu
was used in
Moldavia
. After the dissolution of the Soviet Union in
1992
, the Republic of Moldova was formed and required use of its own currency. The first of these currencies was the
cupon
, which was replaced by the leu (meaning "lion"), on
November 29
,
1993
, at a rate of 1 leu = 5000 cupons.
Within Transnistria, a partially recognized state located in Moldova, the Transnistrian ruble is legally issued.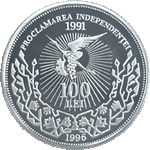 The current coins of the leu are denominated in 1, 5, 10, 25, and 50 bani, with the 1, 5, 10, and 25 bani coins being composed of aluminum, while the 50 bani coin is composed of aluminum-bronze. Aluminum 50 bani coins, and nickel plated steel 1 and 5 lei coins were issued in 1993, but have been withdrawn from circulation.
Commemorative coins
Edit
Moldova minted its first commemorative coin in 1996, which commemorated the 5th anniversary of the Moldovan Declaration of Independence. Since 2000, commemorative coins have been produced annually, in denominations of 10, 20, 50, 100, and 200 lei.
Banknotes
Edit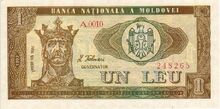 Two series of Moldovan leu banknotes have been printed. The first series, which was only issued in 1993, consisted of notes denominated in
1
,
5
, and
10
lei. During November 1993, the first banknote of the second series, denominated as
20 lei
was introduced. The new 1, 5, and 10 lei notes were introduced in
1994
with the
50
lei note. These were followed by the
100
and
200
lei banknotes in
1995
, the
500
lei banknote in
1999
, and the
1000
lei note in
2003
.
Exchange rates
Edit
References
Edit
Community content is available under
CC-BY-SA
unless otherwise noted.