Jurassic World: Dominion Dominates Fandom Wikis - The Loop
Play Sound
The Namibian dollar (code: NAD) has been the official currency of Namibia since 1993. Today, it circulates alongside the South African rand. It is often abbreviated using the dollar sign ($), but is sometimes abbreviated as N$ to distinguish it from the other currencies denominated in dollars. It is divided into 100 cents.
History
[
]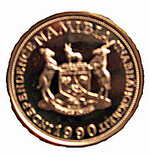 During 1990, the Namibians began moving towards replacing the rand, which was still being circulated in Namibia due to its involvement with the Common Monetary Area after its independence from South Africa. However, there was confusion as to what the currency would be named. Specimen banknotes of 2, 5, 10, and 20 kalahar (derived from the Kalahari Desert in Namibia) were printed. A proof series of coins was also produced, which introduced denominations in dollars, marks, and rands to the Namibian Ministry of Finance to decide the name of the new currency. The decision eventually fell in favor for the "dollar" to be the new currency of Namibia. However, Namibia also had to decide on a name for the central bank. Originally, it was proposed to call this bank the Namibia Reserve Bank. Later, the name, Bank of Namibia was proposed, which it became designated as during 1993. On September 15 of this year, the Bank of Namibia issued its first notes and then its first coins during December.
Today, despite efforts to replace the rand, it still remains legal tender and an official currency in Namibia.
Coins
[
]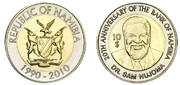 Today, there are five denominations of coins in circulation: 5 cents, 10 cents, 50 cents, 1 dollar, and 5 dollars. Cent coins are composed of nickel-plated steel while the dollar coins are composed of brass. They were minted in 1993, 1996, 1998, 2000, 2002, 2008, and 2009.
Along with the general issue coins, Namibia has also minted a number of commemorative coins at values of 1, 5, 10, 20, and 100 dollars.
Banknotes
[
]
There are five denominations of banknotes in circulation: 10, 20, 50, 100, and 200 dollars. All of these display Hendrik Witbooi, a former Namaqua chief known for his revolts against the German rule of Namibia during the 20th century. In 2012, a new issue of notes is expected to be issued, in which the image of Witbooi will be replaced on the 10 and 20 dollar notes with an image of President Sam Nujoma.
Exchange rates
[
]
References
[
]
The Catalog Updated - Current banknotes of Namibia