National Bank of Moldova
Banca Naţională a Moldovei

(Romanian)


Logo

General information
Headquarters
Date established
Governor
Currency
Website
www.bnm.md
The National Bank of Moldova (Romanian: Banca Naţională a Moldovei), sometimes abbreviated as BNM, is the central bank of Moldova.
The bank is a legal, public, autonomous establishment responsible to the Parliament of Moldova.
On June 4, 1991, the bank was established on the basis of the Soviet state bank, Gosbank. When Moldova gained its independence on August 27, 1991, the National Bank of Moldova continued issuing the Soviet rubles of the obsolete nation. The following year, in 1992, the National Bank of Moldova issued the first Moldovan currency, the cupon. When this currency became obsolete in 1993, the leu was introduced, and remains in use to this day.
During 2006, the National Bank of Moldova implemented the new automated interbank payment system (AIPS), a payment system between banks in Moldova. The only area of Moldova the National Bank does not provide currency for is Transnistria, which issues its own currency.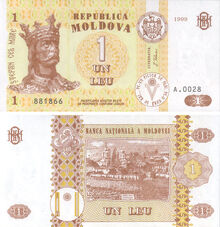 The main objective of the National Bank of Moldova is achieving and maintaining the national currency. To do this, the National Bank cooperates with the Moldovan Government to achieve these objectives, and in accordance to the law, it takes necessary measures to carry out this cooperation. The National Bank is given the responsibility of informing the public on macroeconomic analysis, evolution of the financial market, credit granting, balance of payments, and foreign exchange markets. The bank is also responsible for the issue of coins and banknotes.
Community content is available under
CC-BY-SA
unless otherwise noted.