This article or section needs to be

cleaned up

to reach a higher standard of article quality.

Please follow the guidelines of our manual of style and complete this article to a higher level of quality. When this is done, this message may be removed.
2 marken
1901 coin
General information
Country
Value

ℳ2.00

Years
Measurements and composition
Mass

11.11 g

Diameter

28 mm

Composition
Appearance
Shape

round

Obverse
Reverse

Reichsadler, state title, value, year

v · d · e
The 2 mark coin was originally minted by the Grand Duchy of Oldenburg in 1891, during Grand Duke Peter II's reign. A second issue was introduced in 1900, following Peter's death and Frederick Augustus II's accession to dukedom.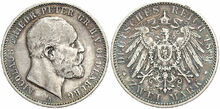 The first 2 mark coin of Oldenburg was minted in 1891. It was composed of .900 fine silver, weighed about 11.111 grams, and measured 28 millimeters in diameter. Then-current Duke of Oldenburg, Peter II was engraved on the coin's obverse, partially encircled by a legend reading "NICOLAUS FRIEDR. PETER GR.H.V. OLDENBURG" around the coin's circumference. An "A" was inscribed below the effigy of Peter, which indicated the coin was produced at the Berlin Mint. Depicted on the coin's reverse was the Reichsadler of the German Empire, accompanied by the state title of the German Empire (DEUTSCHES REICH), the year of minting, and the coin's value. At least 100,000 of these coins were produced, with a few being struck in proof quality.
Frederick Augustus II's reign as Duke of Oldenburg began on June 13, 1900, following Peter II's death. As a result, a new Oldenburg 2 mark coin was issued that year. The effigy of Peter II was replaced with one of Frederick Augustus, and the legend above the new effigy read "FRIEDRICH AUGUST GROSSHERZOG V. OLDENBURG", to match the new image. Other than the mentioned changes, no other alterations were made between the two coins. A total of 125,000 were minted between 1900 and 1901, with 260 examples from 1901 being struck in proof quality.
Community content is available under
CC-BY-SA
unless otherwise noted.