Pridnestrovian Republican Bank




General information
Headquarters
Date established
President

Oksana Ionov

Website
www.cbpmr.net
The Pridnestrovian Republican Bank (Russian: Приднестровский республиканский банк) is the central bank of Pridnestrovie. It has issued the coins and banknotes of the Pridnestrovian ruble since 1994.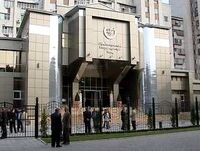 On December 22, 1992, the Parliament of Pridnestrovie adopted a new law in order to regulate the banking system. This called for the establishment of the bank building. In 1994, the first notes of the ruble were issued and in 2000, produced their first coins. On November 18, 2005, the Tiraspol Mint was opened, which took over the production of coins. During October 2006, the new, and current, building of the bank was opened in Tiraspol.
Community content is available under
CC-BY-SA
unless otherwise noted.