Priit Pärn


Biographical information
Nationality

Estonia

Born

August 26, 1946, Tallinn

Occupational information
Occupation
Affiliations
v · d · e
Priit Pärn is an Estonian artist, cartoonist and animation director. In addition to his work on films and television, he is also the designer of a commemorative Estonian coin minted in 2011.
Biography
[
]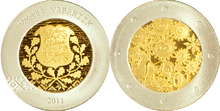 Pärn was born in Tallinn, Estonia on August 26, 1946. He worked as a plant ecologist before his career in animation began upon his involvement with the production of the film Kilplased in 1974. After a brief apprenticeship in Joonisfilm, Pärn directed his first film, Is the Earth Round? in 1977. Since then, he has directed a number of other films, including Triangle (1982), Breakfast on the Grass (1987), Hotel E (1991), 1895 (1995), Night of the Carrots (1998), and Drivers in the Rain (2010). Pärn has received a number of animation rewards for his animation works, including the Lifetime Achievement Award from the International Animated Film Association and the 2004 Special Jury Award at the Zagreb World Festival of Animated Films. He has been teaching animation at the Art Academy of the Turku University of Applied Sciences in Turku, Finland since 1994.
Pärn designed a commemorative Estonian 20 euro coin entitled "Estonia's accession", which was first issued on January 24, 2011.
See also
[
]
References
[
]
External links
[
]
Estonian euro coins

Official

coins

1₡

•

2₡

•

5₡

•

10₡

•

20₡

•

50₡

•

€1

•

€2

(

Comm.

) •

€7

•

€8

•

€10

•

€12

•

€20

•

€25

Fantasy patterns

1₡

•

2₡

•

5₡

•

10₡

•

20₡

•

50₡

•

€1

•

€2

•

€5

Miscellaneous

Bank of Estonia

•

Lembit Lõhmus

•

Mint of Finland Ltd.

•

Royal Dutch Mint