Raphael David Maklouf
Biographical information
Nationality
Born
Occupational information
Occupation

Sculptor

Affiliations
v · d · e
Raphael David Maklouf is an Israeli-born British sculptor, possibly most well known for designing the effigy of Queen Elizabeth II used on the coins of many Commonwealth nations from 1985 to 1997.
Biography
Edit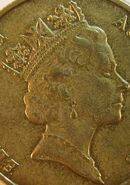 Raphael Maklouf was born on December 10, 1937 in Jerusalem, the son of Samuel Maklouf (1911–1990) and Leonid Maklouf (ca. 1913–?). He emigrated with his family to the United Kingdom after World War II. Here, Maklouf began sculpting at thirteen years old, and was taught at the Camberwell College of Arts from the time he was sixteen until 1958. Afterward, he became an academic lecturer for ten years. Maklouf was made a fellow of the Royal Society of Arts in 1977, and elected as an Associate of the Royal Society of British Sculptors in 1979.
During 1982, the Royal Mint beseeched seventeen artists to submit models of Queen Elizabeth II to be considered a replacement for Arnold Machin's then-outdated likeness of the queen on Commonwealth coinage. Thirty-eight models were considered by the Royal Mint Advisory Committee on the Design of Coins, Medals, Seals and Decorations, and they ultimately selected two models designed by Maklouf, one of which was intended for circulation coinage, while the other was for commemorative coinage. Upon Queen Elizabeth's approval, the designs began being used on Commonwealth coinage on January 1, 1985, and continued until 1997. Maklouf is currently affiliated with Tower Mint, Ltd., which continues to mint Gibraltarian coins bearing Maklouf's own likeness of Elizabeth II on the obverse.
Maklouf is additionally known for his sculptural design representing the fifteen Stations of the Cross in Brentwood Cathedral.
References
Edit
Community content is available under
CC-BY-SA
unless otherwise noted.