This page is outdated.

Please update this page to reflect recent events or newly available information. Please see the talk page for more information.
The São Tomé and Príncipe dobra (code: STD; symbol: Db) is the currency of São Tomé and Príncipe. It is divided into 100 cêntimos, but inflation has rendered the cêntimo obsolete. The currency was introduced in 1977, replacing the escudo at par.
Banknotes
Edit
During 1977, banknotes were introduced in denominations of
50
,
100
,
500
, and
1000
dobra by the
Central Bank of São Tomé and Príncipe
. Due to inflation, notes denominated in
5000
,
10,000
,
20,000
, and
50,000
dobra were introduced, with the former lower denominated notes being replaced by
coins
in
1997
. In
2006
, a new issue of these banknotes was introduced, with upgraded security features.
During December 2008, the 100,000 dobra note was introduced.
All the notes bear a portrait of Rei Amador. The only exception is the 100,000 dobra banknote, which bears a portrait of African poet, Francisco José Tenreiro.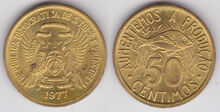 In 1977, coins denominated in 50 cêntimos, 1, 2, 5, 10, and 20 dobra were introduced. With an exception of the brass 50 cêntimo and 1 dobra coins, all of these coins were struck in cupronickel. In 1997, coins were minted at higher denominations, due to inflation, with values of 100, 250, 500, 1000, and 2000 dobra were introduced. Of these, the lower denominated coins (100 and 250 dobra), are round, while the remaining are equilaterally curved heptagonal.
Exchange rates
Edit
Historical exchange rates
Edit
Date

Euro

United States dollar

1995
n/a
1,420.3
1996
2,203.2
1997
4,552.5
1998
7,104.05
October 1999
–
7,200.0
August 2004
12,002.84
8,794
March 2005
11,663
9,086
25 October 2005 (est.)
9,275.93
7,665.00
20 October 2007
19,639.90
13,738.50
1 January 2008
20,499.73
14,050.00
4 March 2009
22,062.04
17,500.00
31 July 2010
18,720.00
On March 4, 2009, the dobra became the least valued currency unit for the first, and so far only, time in history.
Deal with Portugal
Edit
During July 2009, the Santomean Government signed a loan deal with Portugal, its former colonial mother-country to tie the dobra to the euro. Portugal provided as much as 25 million euros in a move endorsed by the European Commission. São Tomé and Príncipe claimed that linking the dobra to the euro would give their currency stability. It is also expected to attract foreign investment.
Government officials spent a year negotiating the agreement, which was put into effect on January 1, 2010, in which the exchange rate was fixed at 1 EUR = 24500 STD. This is similar to an agreement made between Portugal and Cape Verde ten years before.
Current exchange rates
Edit
Notes and references
Edit
Community content is available under
CC-BY-SA
unless otherwise noted.