This article or section needs to be

cleaned up

to reach a higher standard of article quality.

Please follow the guidelines of our manual of style and complete this article to a higher level of quality. When this is done, this message may be removed.
5 mark
1907 coin
General information
Country
Value

ℳ5.00

Years
Measurements and composition
Mass

27.7779 g[1]

Diameter

38 mm[1]

Thickness

3 mm[1]

Composition
Appearance
Shape

round

Alignment
Obverse
Reverse

Reichsadler, state title, value, year[1]

v · d · e
The 5 mark coin was first issued in 1895[4], during Duke Alfred's reign.[5] A new issue was made in 1907, featuring an image of Alfred's successor, Charles Edward.[4]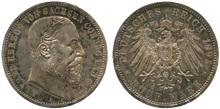 The first 5 gold mark coin of Saxe-Coburg and Gotha was issued in 1895[4], during the second full year of Duke Alfred's reign.[5] It had the same composition and measurements as every standard 5 mark coin issued in the states of the German Empire at the time, having been composed of 0.900 fine silver, weighing 27.7779 grams, and measuring 37 millimeters in diameter and 3 millimeters thick.[1] A right-facing portrait of Alfred was engraved in the center of the obverse, partially encircled by a caption reading "ALFRED HERZOG VON SACHSEN COBURG UND GOTHA".[2] Directly underneath the likeness of the duke was an "A" mint mark[2], indicating the coin was produced at the State Mint in Berlin.[6] The Reichsadler of the German Empire was featured on the reverse, accompanied by the state title of the Second Reich (DEUTSCHES REICH), the coin's value (inscribed as "FÜNF MARK"), and the year.[1] At least 4000 examples were minted, with an unrecorded number being struck in proof quality.[2]
Alfred was succeeded by his nephew, Charles Edward, as Duke of Saxe-Coburg and Gotha on July 30, 1900.[5] However, a 5 mark coin featuring the new duke's image was not issued until 1907, during the sixth full year of his reign.[4] A right-facing image of Charles Edward was featured on the obverse, accompanied by a legend reading "CARL • EDUARD • HERZOG • V • SACHSEN • COBURG • U • GOTHA" and an "A" mint mark. Engraved along the coin's edge was an inscription that read "GOTT MIT UNS". Its composition, measurements, and reverse design were identical to those of the 5 mark coin of Alfred. At least 10,000 examples were minted, with an unrecorded number being issued in proof quality.[3]
References
Edit
Community content is available under
CC-BY-SA
unless otherwise noted.