The Sommer Islands pound, also known as Hogge money, was issued in the English colony of the Sommer Islands (now Bermuda) during the 17th century. The coins were the first struck for an overseas possession.[1]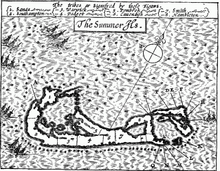 The Sommer Islands were first discovered by Spanish navigator Juan de Bermúdez in 1503. In 1609, a group of English colonists led by Admiral Sir George Somers shipwrecked on the island while heading towards Virginia and subsequently founded a colony on the islands in 1612.[1][2]
The Sommer Islands pound was issued in 1615 or 1616 for monetary use on the islands; however, Spanish dollars and tobacco were the primary media of exchange. Due to its lack of popularity, the currency was demonetized later in the 17th century.[1]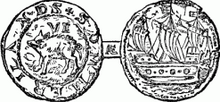 Hogge money coinage was first minted in 1615 or 1616 at an English mint. The coins were intentionally made in a crude fashion to prevent them from being exported. They were composed of brass and bore a thin silver coating, which typically disappeared over time due to the salty environment. Most commentators believe the coins were hammer struck, but others suggest they were made on a roller press, based on a clipped example of a shilling coin. The coins came in denominations of 2, 3, 6, and 12 pence. Each coin bore an image of a hog on the obverse, and a ship, likely the Sea Venture, on the reverse.[1]
Depictions on later currency
Edit
In 1970, the Bermudian dollar was introduced. Since that date, copper 1 cent coins have been issued annually by Bermuda. Depicted on the reverse of these coins is a hog similar in design to those on "Hogge money".[3] From 1989 to 1990, Bermuda issued a series consisting of 10, 25, 50, and 100 dollar coins commemorating the currency of the Sommer Islands. On the reverses of these coins was a depiction of either the obverse or reverse of a Sommer Islands 6 pence coin.[4][5] Also, in 1990 a medallic series of two Bermudian coins denominated in 12 pence/daalder was issued, which depicted a 12 pence coin of the Sommer Islands on the obverse.[4]
References
Edit
Community content is available under
CC-BY-SA
unless otherwise noted.