Soragna (Suràgna in the Parmigiano dialect) is a town and comune located in the northern Italian province of Parma.
Soragna was first mentioned in 712 in a document by the Lombard king Liutprand. It became in possession of the House of Lupi (later Meli-Lupi) in 1198, and became a marquisiate by decree of Emperor Charles IV of the Holy Roman Empire in 1347. It was raised to a principality by Emperor Joseph I in 1709. The principality was incorporated into unified Italy around 1859 along with the surrounding Duchy of Parma.
Main article: Soragna 1 scudo d'oro coin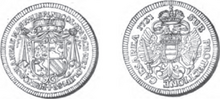 Soragna, which was included in the territory of the Duchy of Parma, would have primarily used Parman currencies. Upon becoming a principality in 1709, the Principality of Soragna was granted the right to mint its own coins. However, this right was not exercised until 1731, when Prince Niccolò Meli-Lupi authorized the production of a gold scudo d'oro trade coin for the country. Trial strikes were also minted in copper and lead. These were the only coins ever produced by the comune. When the Kingdom of Italy was established in 1861, Soragna, now a comune, began using the Italian lira, which continued to circulate throughout all of unified Italy until 2002, when it became replaced by the euro, the current currency of Italy.
| | |
| --- | --- |
| | Currency Wiki has 2 images related to Soragna. |
Community content is available under
CC-BY-SA
unless otherwise noted.