Scudo d'oro
Copy
General information
Country
Soragna
Value

1 scudo

Years
Measurements and composition
Mass

3.66–3.74 g[1]

Diameter
Composition
Appearance
Shape

round

Obverse
Reverse
v · d · e
The 1 scudo d'oro coin was issued by the Principality of Soragna, an Italian state established in the comune of Soragna in the Province of Parma, in 1731, during the reign of Prince Niccolò Meli-Lupi.[1]
Main article: Soragna#Numismatics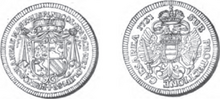 When Soragna was elevated from a marquisate to a principality by Emperor Joseph I of the Holy Roman Empire in 1709, the state was granted the right to issue its own coinage. This right was practiced for the first (and only) time in 1731 by Prince Niccolò Meli-Lupi, who intended to showcase his country's ability to produce coins.[1] It is unknown where the coins were struck and how many were made, but some numismatic contexts claim that it his highly probable the coins were produced in small quantities at the mint in Vienna, Austria.[4] A few specimens are preserved at the museum of the Rocca in Soragna.[2]
The coin was the topic of an article in the April 1906 issue of the Numismatic Circular[4], and was listed in Krause's Standard Catalog of World Coins 1701-1800[1] and Standard Catalog of World Gold Coins[3] a few decades later.
The 1 scudo d'oro coin of Soragna is composed of gold, weighs between 3.66 and 3.74 grams, and measures 22 millimeters in diameter. The coat of arms of the House of Meli-Lupi is depicted on the obverse, encircled by a legend reading "NICOL. MARCH. MELOLUPI. S. R. I. PRINC. SORANEAE". A crowned double-headed eagle of the Holy Roman Empire holding a sword in its dexter talon and a scepter in its sinister talon is featured on the reverse, surrounded by an inscription reading "SUB PROTECTIONE CAESARA" and the coin's year of minting.[1][3]
Copper and lead trial strikes are known to exist, respectively weighing 2.55 and 3.4 grams. These are not currently listed in the Standard Catalog of World Coins.[5]
Community content is available under
CC-BY-SA
unless otherwise noted.