This article or section needs to be cleaned up to reach a higher standard of article quality.

Please follow the guidelines of our manual of style and complete this article to a higher level of quality. When this is done, this message may be removed.
The 50 kopeck coin was issued by Transnistria starting in 2000 and still remains in circulation. During 2005, modifications were made to the coin in composition. It has a value of 0.50 rubles.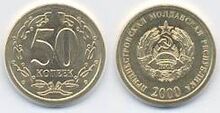 During 2000, the Transnistrian Republican Bank issued the first 50 kopeck coin, which was composed of a copper-zinc alloy. In 2005, the composition of the coin was changed to a copper-steel alloy. Both coins have a mass of 2.75 grams, a diameter of 19 millimeters, and a plain edge. Displayed on the obverse is the coat of arms of Transnistria, with the year below and the title, "Приднестровская Молдавская Республика" ("Pridnestrovskaia Molavskaia Respublika") above. Shown on the reverse is the value (written as "1 KOПEEK") surrounded by a laurel branch.
ReferencesEdit