This article or section needs to be

cleaned up

to reach a higher standard of article quality.

Please follow the guidelines of our manual of style and complete this article to a higher level of quality. When this is done, this message may be removed.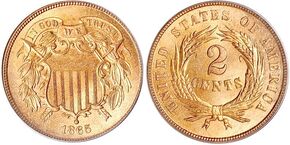 The United States 2 cent coin is a bronze coin worth two cents.
The two cent piece was produced by the United States Bureau of the Mint for circulation from 1864 to 1872 and for collectors in 1873. Designed by James B. Longacre, there were decreasing mintages each year, as other minor coins such as the nickel proved more popular. It was abolished by the Mint Act of 1873.
The economic turmoil of the American Civil War caused government-issued coins, even the non-silver Indian Head cent, to vanish from circulation, hoarded by the public. One means of filling this gap was private token issues, often made of bronze. The cent at that time was struck of a copper-nickel alloy, the same size as the later Lincoln cent, but somewhat thicker. The piece was difficult for the Philadelphia Mint to strike, and Mint officials, as well as the annual Assay Commission, recommended the coin's replacement. Despite opposition from those wishing to keep the metal nickel in the coinage, led by Pennsylvania Congressman Thaddeus Stevens, Congress passed the Coinage Act of 1864, authorizing bronze cents and two-cent pieces.
Although initially popular in the absence of other federal coinage, the two-cent piece's place in circulation was usurped by other non-precious metal coins which Congress subsequently authorized, the three-cent piece and the nickel. It was abolished in 1873; large quantities were redeemed by the government and melted. Nevertheless, two-cent pieces remain inexpensive by the standards of 19th-century American coinage.
Community content is available under
CC-BY-SA
unless otherwise noted.