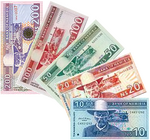 Yesterday, on May 15, 2012, the Bank of Namibia issued a new series of banknotes. All of these banknotes bear the signature of the current governor of the Bank of Namibia, Ipumbu Shiimi. The new 10 and 20 dollar notes bear portraits of President Sam Nujoma, while the higher denominations of 50, 100, and 200 dollars still bear the same image of King Hendrik Witbooi shown on the previous series. New security features, such as color-changing items, watermarks, raised printing, relief marks, and security threads have been applied to the 2012 series to prevent counterfeiting. The same animals depicted on the reverses of the original series are still displayed on the new notes, but now they can be found in the center, rather than to the right like on the first series. The original dimensions and colors of the first series have been retained.
For more information
Community content is available under
CC-BY-SA
unless otherwise noted.