This article or section needs to be

cleaned up

to reach a higher standard of article quality.

Please follow the guidelines of our manual of style and complete this article to a higher level of quality. When this is done, this message may be removed.
This page is outdated.

Please update this page to reflect recent events or newly available information. Please see the talk page for more information.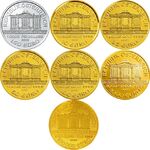 The Vienna Philharmonic coins are seven bullion coins struck annually by the Austrian Mint. Six of the coins are composed of .9999 fine gold, while one is made of silver. It was the best-selling coin worldwide during 1992, 1995, and 1996.
These coins are legal tender solely within Austria, unlike the other Austrian commemorative euro coins, which are legal tender throughout the entire Eurozone. Its bullion value surpasses its face value, and is therefore intended for collectors.
All of the denominations, with an exception of the 1.5 euro denomination, are composed of .9999 fine gold. The design for the coins was made by Austrian artist, Thomas Pesendorfer (1952–). On each coin's obverse is an image of the Golden Hall organ from the Musikverein, along with the coin's value and year of minting. Displayed on each coin's reverse is a cello, harp, bassoon, French horn, and two violas and violins. Above this is an inscription, reading "WIENER PHILHARMONIKER".
Image
Value
Composition
Mass
Diameter
Thickness

€1.5
.9999 silver
31.103 g
37 mm
3.2 mm

€10
.9999 gold
3.121 g
16 mm
1.2 mm

€25
7.776 g
22 mm

€50
15.552 g
28 mm
1.6 mm

€100
31.103 g
37 mm
2 mm

S200
3.121 g
16 mm

S500
7.776 g
22 mm

S1000
15.55 g
28 mm
1.6 mm

€2000/S2000
31.103 g
37 mm
2 mm

€100,000
31.103 kg
370 mm
20 mm
Community content is available under
CC-BY-SA
unless otherwise noted.