William Barber was a British-born American engraver. He served as the 5th Chief Engraver of the United States Mint.
Biography
Edit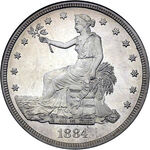 William Barber was born in London on May 2, 1807. He learned how to engrave at a young age from his father, John Barber, and while in London, William worked with the engraving of silver tableware and the production of dies for printing cards and labels. He emigrated to the United States in September 1852.
Upon entering the United States, Barber continued the engraving trade in Boston, Massachusetts, designing a number of medals, both public and private. In 1865 Barber was hired as assistant engraver at the Philadelphia Mint, where he worked under then Chief Engraver James Barton Longacre (1794–1869). Upon Longacre's death in 1869, Barber became Chief Engraver and immediately appointed his son, Charles (1840–1917), as assistant director. His payroll in 1877 as Chief Engraver was about $3000 (about $66,667 in 2014 dollars). During August 1879, Barber vacationed at Atlantic City, New Jersey. While bathing at the sea shore, Barber contracted an illness which brought upon severe chills and fevers. He hoped his sickness was transitory, but it worsened and he was forced to cut his vacation short and return to Philadelphia, where he died on August 31 of that year, at 72-years-old. Upon William's death, his son was appointed as Chief Engraver.
Barber is perhaps most well known for his "Britannia"-inspired trade dollar design, which was produced from 1873 to 1878 for use in the Far East. He also used the long-standing Seated Liberty design for use on the 20-cent coin, which saw limited circulation between 1875 and 1876. In addition, Barber designed a number of pattern coins, and at one point even entered a "pattern war" with future Chief Engraver George T. Morgan. Examples of Barber's patterns include the half-union, "Sailor Head" twenty-cent coin, several 1877 half dollars, and his "Amazonian"-style coins.
References
Edit
Community content is available under
CC-BY-SA
unless otherwise noted.